Does your little girl love American Girl dolls? Then they will love this DIY American Girl doll mailbox!  Keep reading to learn how to make one.
With Valentine's Day in just a few weeks, I thought it would be a good time to move this AG doll mailbox tutorial from my daughter's doll craft blog to here. I originally posted this tutorial when my daughters were little.  My sweet daughters are growing up and no longer play with dolls.  Their American Girl dolls are stored away in case they have daughters of their own. In the process of moving all these AG doll craft tutorials, it has been fun to reminisce and see how little my girls were in the pictures 🙂 They grow up so fast!
Mini Mailbox for 18 inch Dolls

At any rate, enough for my rambling 🙂 This time of year is a great time to make a doll mailbox and fill it with mini printable Valentines. You can easily find tin mailboxes at your local discount or dollar store in with their Valentine displays.
Target has the tin mailboxes in their dollar section, but the lids remove completely. I found one with a hinge at my local Michaels for $4. You can also find them in different colors on Amazon.
Regardless of where you find yours, these mini tin mailboxes are so easy to convert into a free standing AG doll mailbox with just a few things from your local craft store!  Sitting on a base, these tin mailboxes are the perfect size for doll play.  Here is how we made ours.
DIY American Girl Doll Mailbox Supplies / Tools Needed:
novelty Tin Mailbox  approx. 3 3/4 inches tall x 5 1/4 inches long
4 inch square unfinished wooden plaque
7 inch unfinished wooden candlestick
2 inch screw
#8 x 1 inch screw
ruler
pliers, drill, countersink bit, 9/64 inch drill bit, 5/32 inch drill bit, socket wrench with a 1/4 inch socket and a screwdriver bit
optional – paint or stain, paintbrush
Mini Tin Mailbox
6 3/4 inch Wooden Candlestick
4 inch Wooden Square Plaque
&
Instructions to make a doll mailbox:
First prepare the base for your DIY American Girl doll mailbox….
Using a pair of pliers, remove the metal candlestick insert.
If desired, paint or stain the unfinished wood pieces and allow to dry.
Using the ruler, find and mark the center of bottom of the wooden plaque.
Use the 9/64 inch drill bit to drill a hole at the marked center of the bottom side of the plaque and go all the way through.  Use a countersink bit at the hole to allow the screw to drive down flush.
Center the candlestick upside down on the top of the wood plaque.  Drive the 2 inch screw from the center of the bottom of the plaque into the inverted candlestick, until it is flush with the bottom of the plaque.  The screw will be long enough to go into the center of the cup of the candlestick and hold the two pieces together.
Mark the center of both the mailbox bottom and the candlestick base.
Next you want to get ready to attach the top of your AG Doll mailbox…
Use the 5/32 inch bit to drill a hole through the base of the mailbox at the marked center.
Use the 9/64 inch bit to drill a starter hole into the bottom of the candlestick.
Using a #8 x 1 inch screw and a socket wrench equipped with a 1/4 inch socket and a screwdriver bit, insert the screw from the inside of the mailbox into the candlestick.
That's all there is to it!   It took us about a half an hour to make a doll mailbox for both of my daughters. (Painting time not included.)
If you want, you can paint the base.  I painted the base white for the first one I made and it turned out great.  My other daughter wanted their mailbox plain.  You could also stain the base for a more natural look.  Either way, it is a fun new addition for your 18 inch doll collection.
If you do a quick search for printable vintage Valentines, you can find plenty of cute Valentines to fill up your mailbox.  Remember that American Girl Doll scale is 1:3.  So be sure to resize the Valentines to 33% before you print them.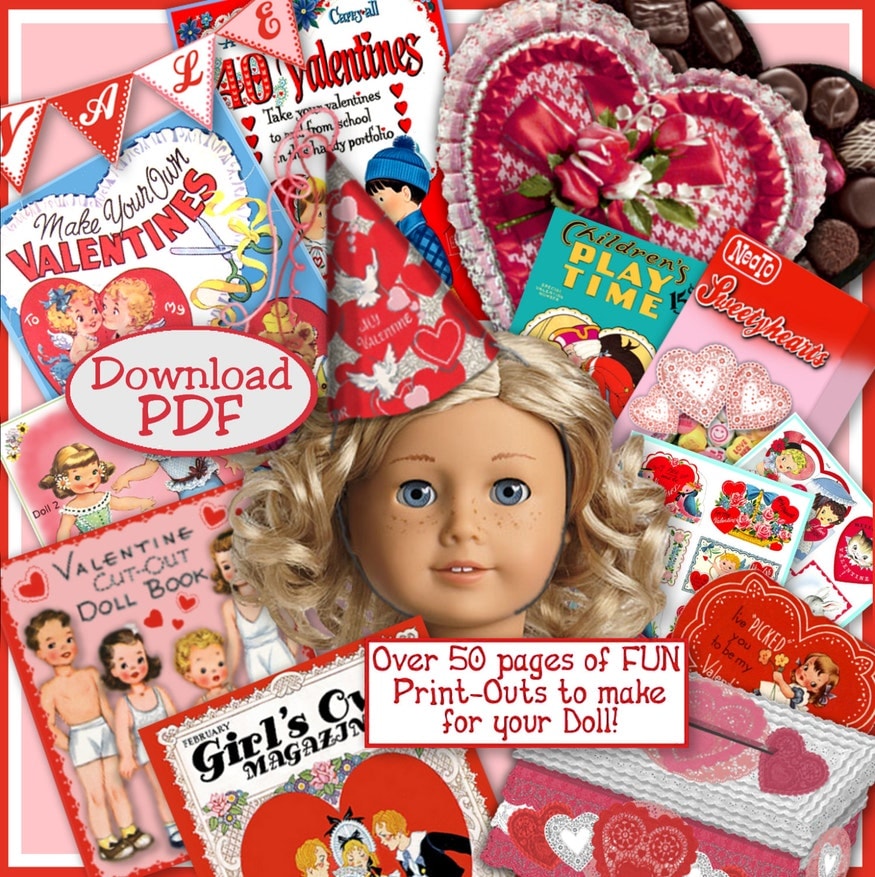 American Girl Doll Vintage Valentine Fun ~ 50 pages of printables

&
Or if you don't want to go to the hassle of finding and re-sizing the valentines, this American Girl Doll Vintage Valentines Printable Set has printable doll-sized Valentines in addition to a ton of other fun printables for doll play.
Pin this AG Doll Mailbox Tutorial for later:
For more doll crafts like this one, be sure to check out the rest of my tutorials for American Girl Doll accessories. If you make this DIY American Girl doll mailbox, you will have to come back here and let me know how it turned out.  I would love to hear from you.  Happy Crafting!