This personalized Scrabble tile gift topper is super cute and takes just 5 minutes to make. It also makes a fun Christmas ornament. Keep reading to learn how to make one.
There is just something about a pretty wrapped package beneath the twinkling lights of the Christmas tree that just makes me smile.  So I am always on the look out for new Christmas gift topper ideas.  And since we are just a week out from Christmas, they had to be quick to make this year.
For this year's Christmas gifts,  I bought some pretty kraft snowflake wrapping paper and made some simple personalized Scrabble tile present toppers.  They were super easy to make and I just love how they look on the wrapped gifts.  Then after my family opens the gifts, the toppers will also make great Christmas ornaments!
For this DIY Scrabble tile ornaments / gift toppers tutorial, you will need an assortment of wood Scrabble tiles.  You can sometimes find old Scrabble games at thrift shops or garage sales.  However in my area they are snatched up pretty quickly.  Fortunately you can buy the wooden tiles on Amazon.
I bought a pack of 100 Scrabble tiles and was able to make ornaments for my husband and all four kids.  I found there were plenty of tiles for the vowels and common letters.  The only issue I ran into was that there was only one letter K in the pack and I needed two.  Fortunately there were a few blank tiles in the pack and I was able to make my own with a sharpie pen.
Scrabble Tile Gift Topper Supply List
Scrabble tiles
1-1/2″ wired Christmas ribbon (I used red gingham)
1/2″ ribbon (I used cream with gold edges)
1/8″ ribbon (I used red)
gold cord
mini jingle bells
hot glue gun
scissors
Wood Scrabble Tile Assortment

Mini Gold Jingle Bells

Watch the Scrabble tile present topper video tutorial
Directions for Scrabble tile Christmas gift topper/ ornaments
Heat up your hot glue gun.
Fish tail the end of the 1-1/2″ ribbon.  You can easily do this by folding the ribbon in half and cutting diagonally upward from the wired edge to the folded edge.  When you open it back up, the ribbon will have a nice banner edge.
Pull out the Scrabble tiles you will need and lay them out on the ribbon 1/4″ apart.  (You aren't gluing anything down at this time, just estimating how long a piece of ribbon you need.  Measure up 3″ more from the last Scrabble tile and cut the ribbon.  Set the Scrabble tiles aside.
Starting about 1/4″ from the point of where you cut the ribbon end, run hot glue up the middle of the ribbon to the other end.  Press a length of the 1/2″ ribbon on to it.  Cut off the excess 1/2 inch ribbon.
Quick tip:  Use a sheet of parchment or a silicone baking sheet on your work space to ensure your project won't stick to it.
Starting with the last letter of the name at the bottom of the ribbon, hot glue the Scrabble tiles to the ribbon.  Leave about 1/4″ between each tile.
Fold the extra ribbon to the back side.  Cut a 3″ length of gold cord.  Turn your Scrabble tile gift topper over and run hot glue in the fold.  Press the two ends of the cord together into the hot glue, forming a loop.  Add additional hot glue to the folded over ribbon and press into place.
Cut a 9″ length of the 1/8″ ribbon.  String two jingle bells on it, then tie together with a bow.  Trim the ribbon ends to desired length.  Hot glue the jingle bells above the last Scrabble tile.
Adding your Scrabble tile present topper to a gift
I found the easiest way to add the DIY Scrabble tile gift topper to a Christmas present was to wrap some ribbon around the present near the top.  Tie in a knot.  Thread the loop on the topper onto the ribbon and tie in place.  If your loop is big enough, you can put a gift bow in the middle with some ribbon curls behind it.
More ornaments made out of Scrabble tiles
Don't have time to make any Scrabble tile gift toppers / Christmas ornaments this year?  Here are some cute ones you can purchase from Etsy…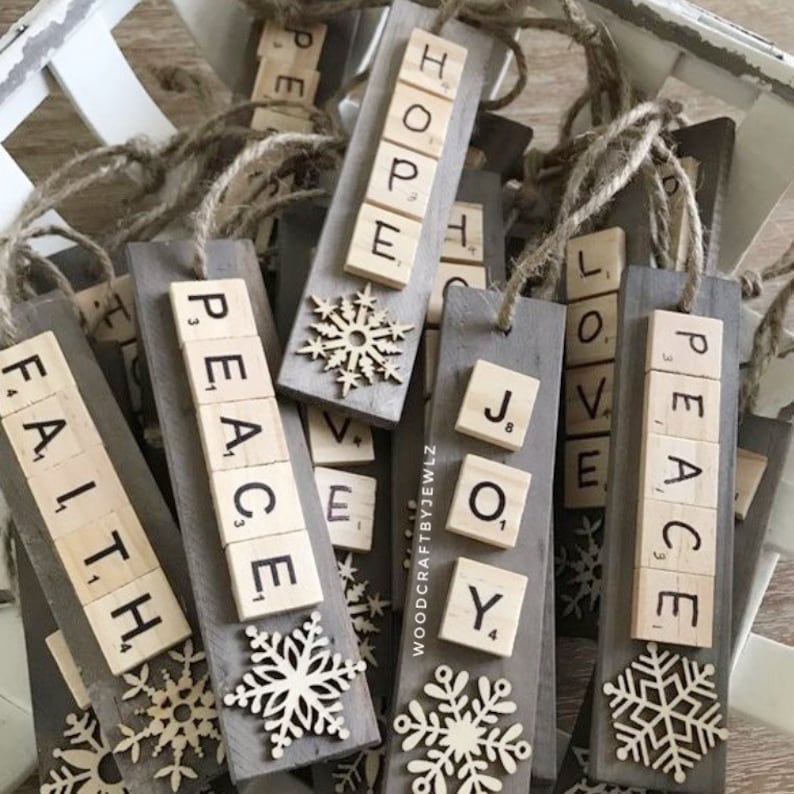 Farmhouse Rustic Christmas Scrabble Ornaments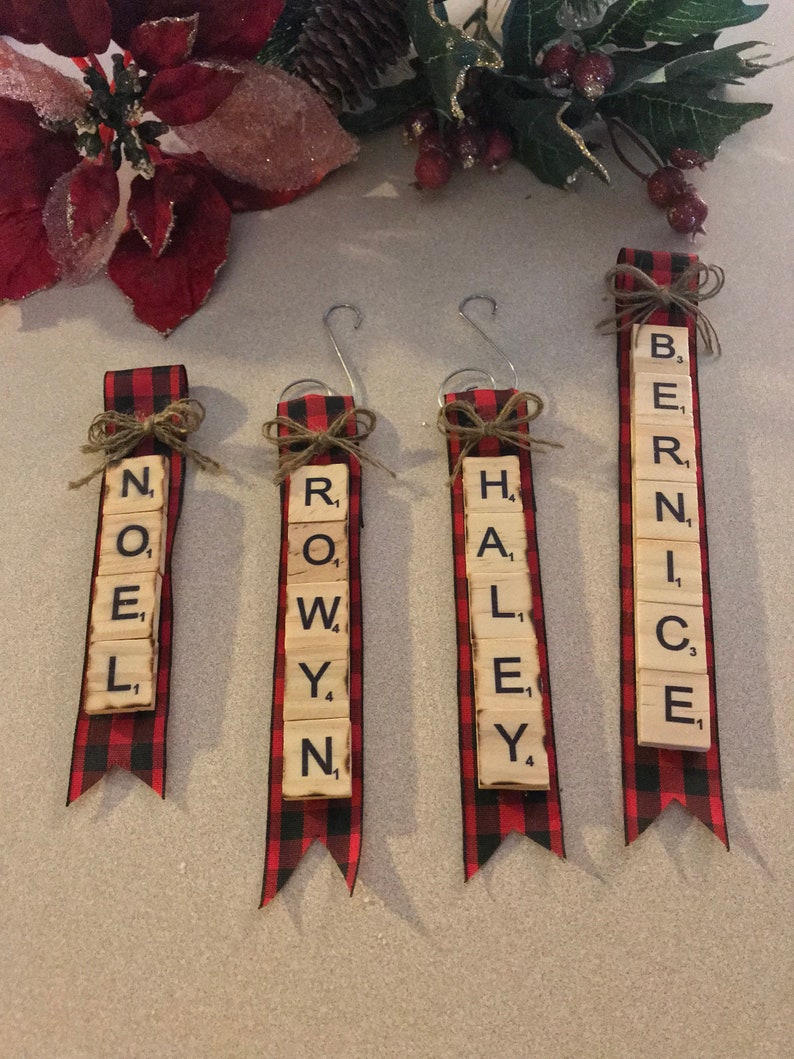 Custom Scrabble Letter tile ornaments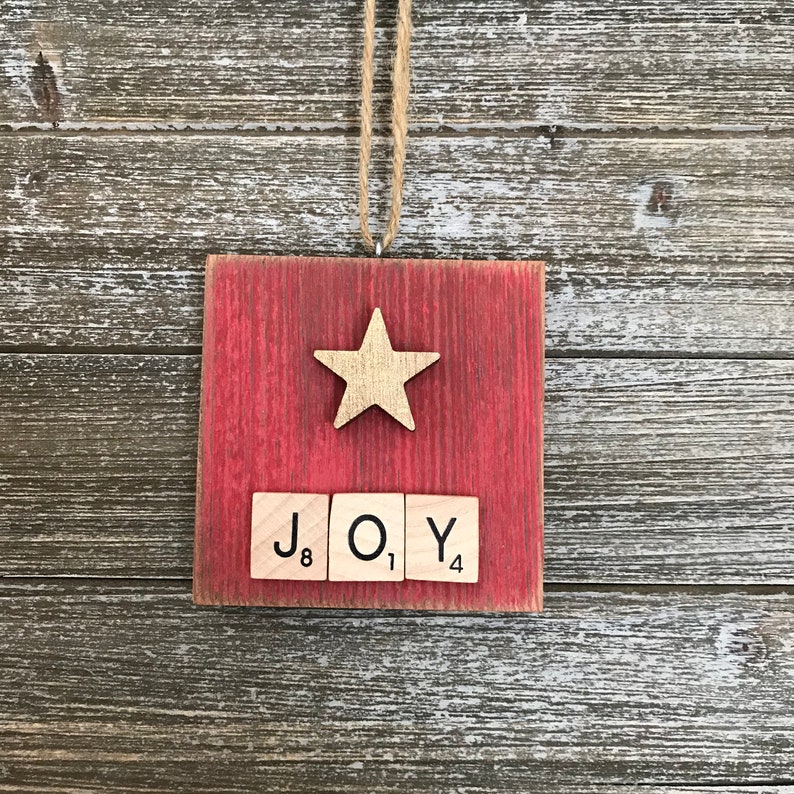 Rustic Joy Scrabble Tile Ornament

Pin this DIY Scrabble tile ornaments / present toppers tutorial for later…
While you are here, be sure to check out the rest of my Christmas crafts.
I hope you have enjoyed this Scrabble tile gift topper tutorial and it has inspired you to make some pretty present toppers for your Christmas gifts this year.  If you have any questions, be sure to leave a comment below.  Merry Christmas!