Learn how to make an American Girl doll sized baking sheet pan using just a scrap of balsa wood and aluminum foil. Keep reading to learn how easy this cute mini baking sheet is to make for your 18 inch doll kitchen!
I recently found some cute miniature resin sugar cookie ornaments at Hobby Lobby and instantly thought they would make adorable American Girl doll cookies.  I bought a couple of packs of them.  When I got home, I realized I needed some doll sized baking sheets to put them on for display in my 18 inch doll kitchen scene!
I first thought about spray painting balsa wood to make and 18 inch doll baking pan , but didn't have any silver paint on hand.  Fortunately you can get the same effect with aluminum foil.  So I ran to the kitchen to grab a roll of foil and set to work.
These AG doll cookie sheets are quick and easy to put together.  You can easily make several in no time at all to use in your American Girl doll kitchen.
✅ Related: Polymer clay American Girl Doll fortune cookies tutorial
Materials needed to make an AG Doll Sized Baking Sheet Pan:
Aluminum Foil
1/8″ thick Balsa or Bass Wood (you could also use sturdy cardboard)
White glue
Scissors, Exacto Knife (adult use only)
Doll-sized cookies – polymer clay, resin, novelty erasers, plastic, etc. (optional)
1/8″ Thick Balsa Wood

Japanese Cookie Erasers

Kawaii Resin Sweet Treats Assortment

Instructions to make AG Doll Cookie Sheets:
Cut your wood or cardboard to 3″ x 4″. Technically, you can cut the balsa wood with scissors, but it is probably better to use an Exacto Knife. (Adults only for that step.)
Cut a piece of aluminum foil to 4″ x 5″.
Spread glue evenly on the back of the wood or cardboard and place in the middle of the aluminum foil. You want to glue it to the dull side of the foil. If you don't measure your foil exactly, then just trim it to have a border of approx. 1 inch all the way around the wood.
Next cut a slit in the foil from the corner of the foil to the corner of the wood.
Using the picture above as your guide, fold each the triangle formed by the slits inward to form a foil flap. Repeat all the way around the sheet. This will help ensure smooth edges around your baking sheet with no excess foil.
We want a lip for one of the sides of our baking sheet. So take one of the short edges and fold it towards the wood about 3/4 inch in and glue in place. The extra foil will be shaped upward to form the lip of your baking pan.
Fold in and glue the remaining 3 edges. If desired you can use a rectangle foil scrap to cover the remaining wood on the back of the baking sheet.
Fold the lip upward to like look a real cookie sheet.
Adding Cookies to the DIY 18 Inch Doll Baking Pan
Now add cookies.  You can get some really cute polymer clay cookies on Etsy that you can use on your diy AG doll cookie sheets.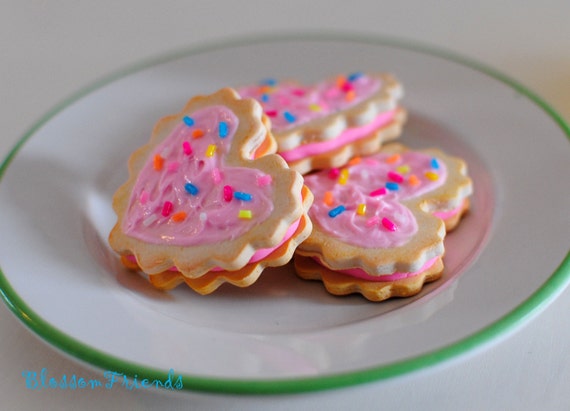 Frosted Sandwich Cookies with Sprinkles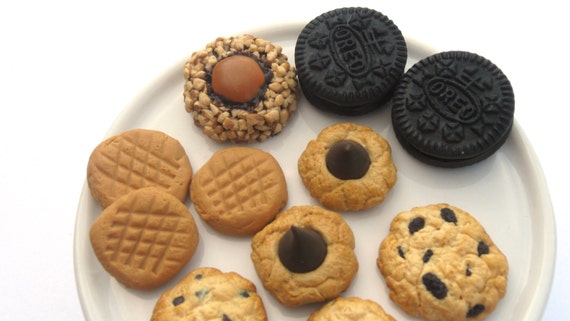 Realistic Cookie Assortment for 18 inch Dolls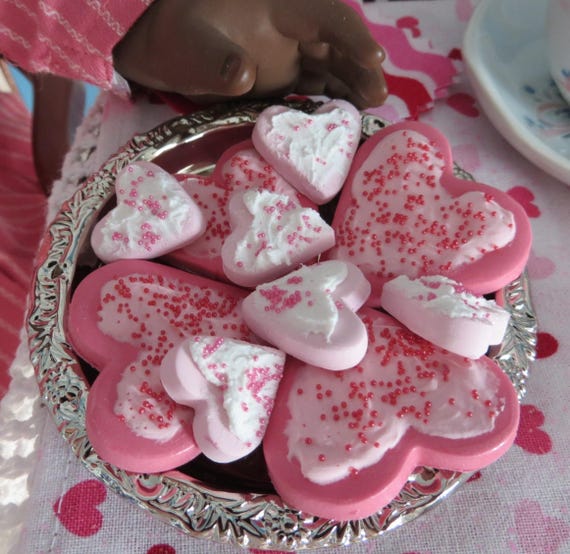 Frosted Heart Cookies with Sprinkle

If you look at craft stores around the holidays, you can find miniature resin cookie ornaments that will also work.  You just need to use a pair of pliers to snip off the hanging loop.
Or feel free to make your own cookies for these doll sized baking sheets using craft foam or polymer clay. This American Girl doll fortune cookies tutorial is a good one to try!
Glue the cookies to the top of the baking sheet if desired or leave them loose. It's up to you.
I chose to glue mine down so the little cookies don't get lost.  These doll sized baking sheet pans are so easy to make, you could quickly make up a new one for each holiday or season.
Pin this doll sized baking sheets tutorial for later:
Quick Links to Info on This Page
While you are here, be sure to check out the rest of my easy American Girl Doll crafts.
This 18 inch doll baking pan was so easy to make I will probably make a couple more to have on hand.   If you make any of these doll sized baking sheets, be sure to leave me a comment below and let me know how they turned out.  Happy crafting!